Surveys and Research
Surveys are:
A useful marketing tool
A complete waste of time
I don't understand the question
Look! Shiny things!
A useful, well thought out survey can offer you insight into the mind of the user that is almost impossible to get through any other method. When done properly, surveys build customer relationships while creating excitement and brand loyalty.

Splashdot can help you craft the right questions and target the right users so that you can get the data you need. We are proud of the response rates we are able to achieve (percentage-wise, way higher than the marks we got in school!) and our clients agree wholeheartedly. Combine our proven know-how with our ridiculously easy to implement Survey modules in nCentive and it's easy to see why so many businesses depend on us to power their surveys.
To see some of the successful surveys we have developed for our clients, get in touch with us here. We'd love to show you exactly what you've been missing.
What can nCentive do to help your surveys?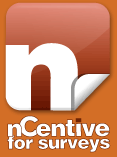 Imagine if surveys were easy to implement and could provide all the data you need!
By managing the survey with
nCentive
, it really is possible.
nCentive
allows you to set up highly personalized surveys very easily and have all the data tied into your central membership system.
Very nice! High five!