Clients
We have the best clients in the world and are proud to say that more than 90% of our current client roster has been with us for over three years. We've helped these diverse companies promote everything from consumer goods, to travel, to lottery tickets: small or large, we have helped create successful marketing promotions for all types of businesses.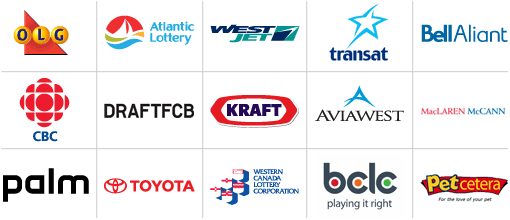 Casinos and Gaming
Splashdot works with Casinos to provide engaging online experiences that augment player loyalty, and entice players to engage with the casino while they are away from the property. A Splashdot produced online loyalty environment can include personalized email campaigns, branded contests and games, as well as customized environments where consumers can track their playing progress, view and redeem promotional offers, and check out casino news relevant to them.
Our casino clients leverage Splashdot's online environments to attract new players as well as keep their current players coming back, and coming back more often. They find peace of mind in our industry leading security, powered by proven software, allowing for worry free handing of often sensitive Casino data. So what are you waiting for, contact us today about setting up your loyalty program, or check out an example here
Lotteries
One of the industries that Splashdot has worked extensively with is the Lottery industry. These corporations effectively run contests for a living and are constantly being subjected to the highest level of scrutiny possible. It speaks volumes that so many companies in this industry choose to partner with Splashdot. They have come to recognize that Splashdot not only securely and professionally handles all aspects of their promotions, but by looking at the big picture, is able to add value in unexpected places.
Consumer Brands
We work for a variety of consumer brands, including travel, tourism and consumer goods companies. Whether we are managing loyalty environments, running gamified promotions or sending email communications, we help make their online world as creative and worry-free as possible. Of course, everything is always secure (not a given in this industry!), and in line with strategic goals.
Advertising and Marketing Agencies
In addition to working with corporate clients, Splashdot also spends considerable time partnering with advertising and marketing agencies. By leveraging our vast expertise with contests and our advanced technology, we allow agencies to do what they do best, resulting in the finest finished product possible. Agencies can simplify their projects, increase their profits and make clients happier by partnering with Splashdot. What's not to love?