Canadian Lotteries Look beyond Sales during Holiday Season.
"Many of Canada's lottery corporations embrace the holiday spirit with digital promotions reward players, growing their known play."
The holiday season is truly the most wonderful time of the year. It's one of the few occasions on our calendar when we connect with our extended families and exchange the warmth of the season. We get time off work, our kids get time off school to dream about PS5's and Air Jordan's, and we all get to sleep in. Restaurants, retailers, and small businesses all enjoy a sudden infusion of revenue they so often need.
The holidays are also a very important time for lottery sales. The joy of the season is contagious, attracting occasional purchasers to embrace the lottery spirit and give the gift of dreaming to their loved ones with lottery products. While holiday-themed lottery tickets make the ultimate stocking stuffer for those above the age of majority, these purchases are also the perfect opportunity for lottery corporations to expand their digital footprint.
Many of Canada's lottery corporations embrace the holiday spirit with digital promotions designed and developed in collaboration with Splashdot to engage and reward players, growing their known play.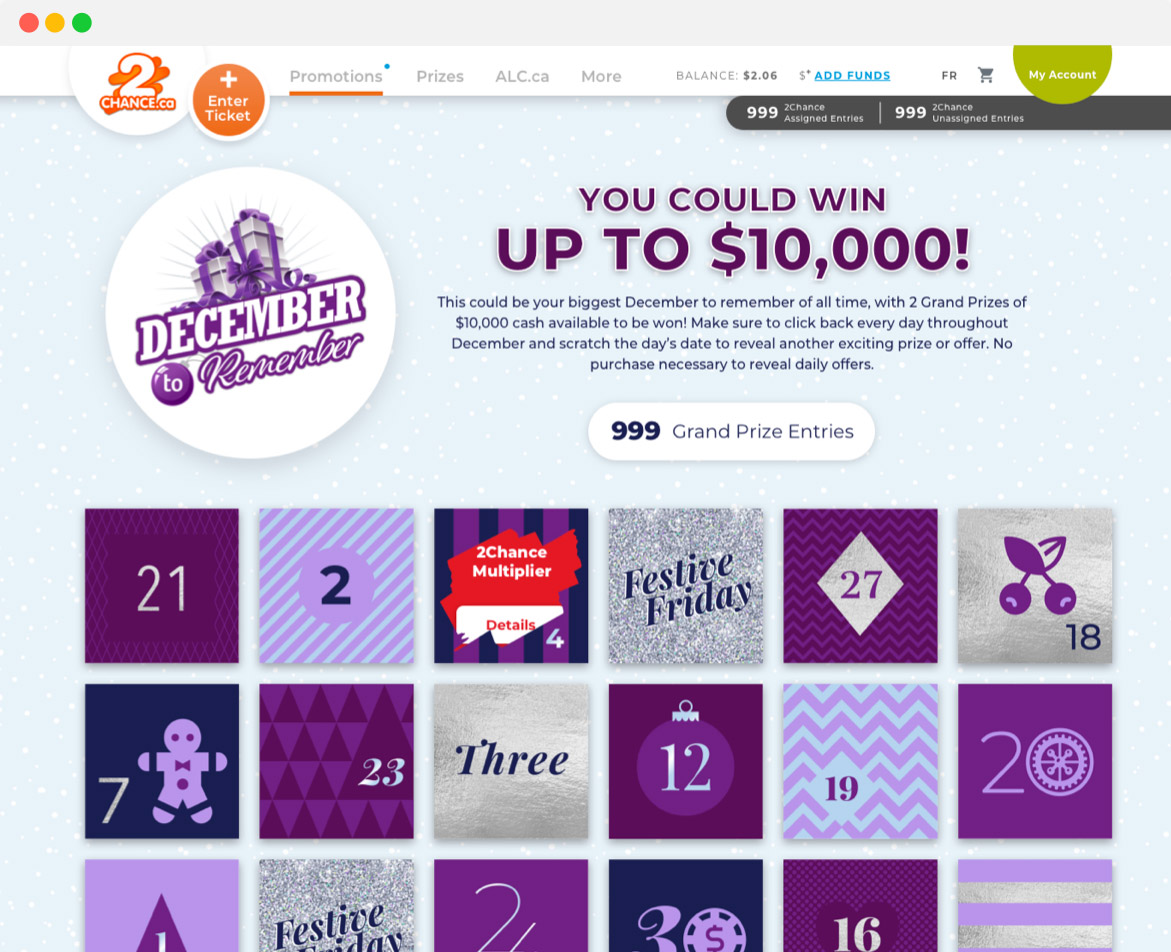 ALC 2Chance December to Remember
"The beauty of developing a holiday-themed online promotion is that there are so many creative avenues we can explore strategically to increase customer engagement and increase known play," says Scott McWilliam, VP of Sales and Marketing at Splashdot. "Regular and casual players alike are extremely receptive to participating in promotions at this time of year and we can appeal to that state-of-mind and create a fun and engaging digital experience."
For the past two holiday seasons, Atlantic Lottery has run a super-creative advent-calendar-inspired December to Remember promotion under the corporation's iconic 2Chance brand. Players are invited to go online daily throughout December to "scratch" the window corresponding to that day's date, revealing an exciting cross channel prize draw or a chance to earn bonus 2Chance draw entries by playing other Atlantic Lottery games online.
"We knew we had an exciting online promotion on our hands when we first launched December to Remember back in 2020, but the level of cross-play we saw exceeded all of our expectations," said Patrick Daigle, Atlantic Lottery President and CEO. "The online environment of the promotion gives us a clear view of the types of games being enjoyed most, enabling us to strengthen the relationship we have with our players even further."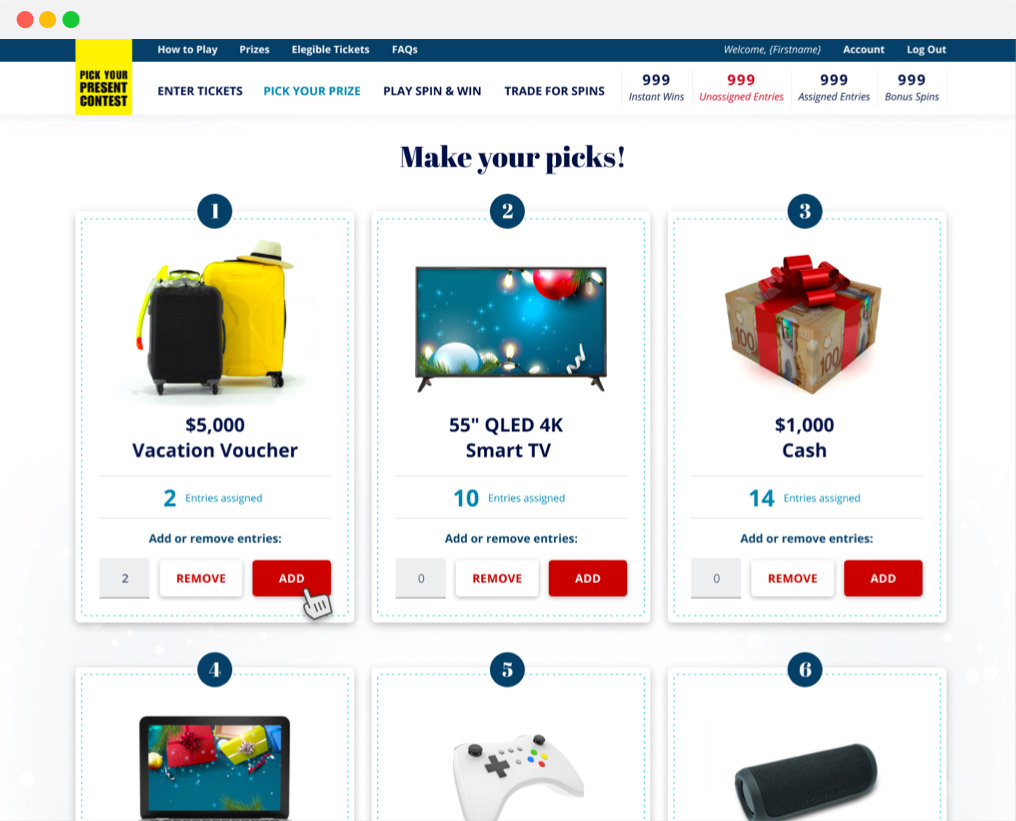 WCLC Pick Your Present Contest
Over the past 11 years, the Western Canada Lottery Corporation's (WCLC) PICK YOUR PRESENT promotion has become synonymous with holiday Zing (Scratch'n Win) play in the provinces of Alberta, Saskatchewan, and Manitoba, and in the territories of Yukon, Northwest Territories and Nunavut. Players simply enter the ticket codes from holiday-themed Zing tickets online to earn entries into their choice of prizes such as a $5,000 vacation voucher, a smart TV, and $1,000 cash. For every $5 worth of tickets entered, players can also "spin" a digital wheel for a chance to win a $50 prepaid credit card or bonus prize draw entries. The innovative platform developed by Splashdot also allows players to move their draw entries around anytime in case they change their mind on the draws they want to enter.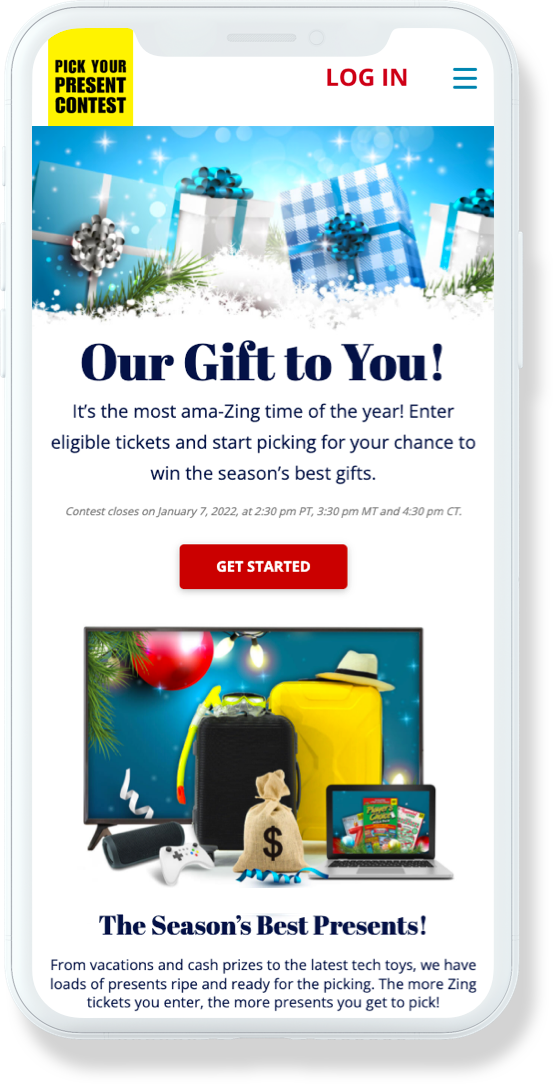 "PICK YOUR PRESENT was actually way ahead of the game in creating a retail centered digital program for our lottery ticket purchasers," says Chelsey Rowledge, Manager Quick Play products with WCLC. "We have significantly grown our MVP digital touch points via PICK YOUR PRESENT, which makes it a clear win-win with our players."
BCLC (The British Columbia Lottery Corporation) has been running their own rewards program for holiday Scratch & Win ticket players for a decade. Tech the Halls, developed in collaboration with Splashdot, invites players to enter their ticket codes to earn entries for their chance to win technology-themed prizes, and also features a spin wheel. To celebrate 10 years of Tech the Halls, BCLC added 12 Days of Christmas bonus offers, where each day represents a different offer with multipliers, bonus offers and instant prizes.
"Tech the Halls delivers a festive and fun experience that many of our existing players look forward to playing all year round and that typically also attracts new players," said Gladys Primeau, Category Manager, Instant Games, BCLC. "It's an innovative concept to thank our players for playing with us year-round by giving them extra chances to win and creates new reasons for our players to get excited about Scratch & Win games."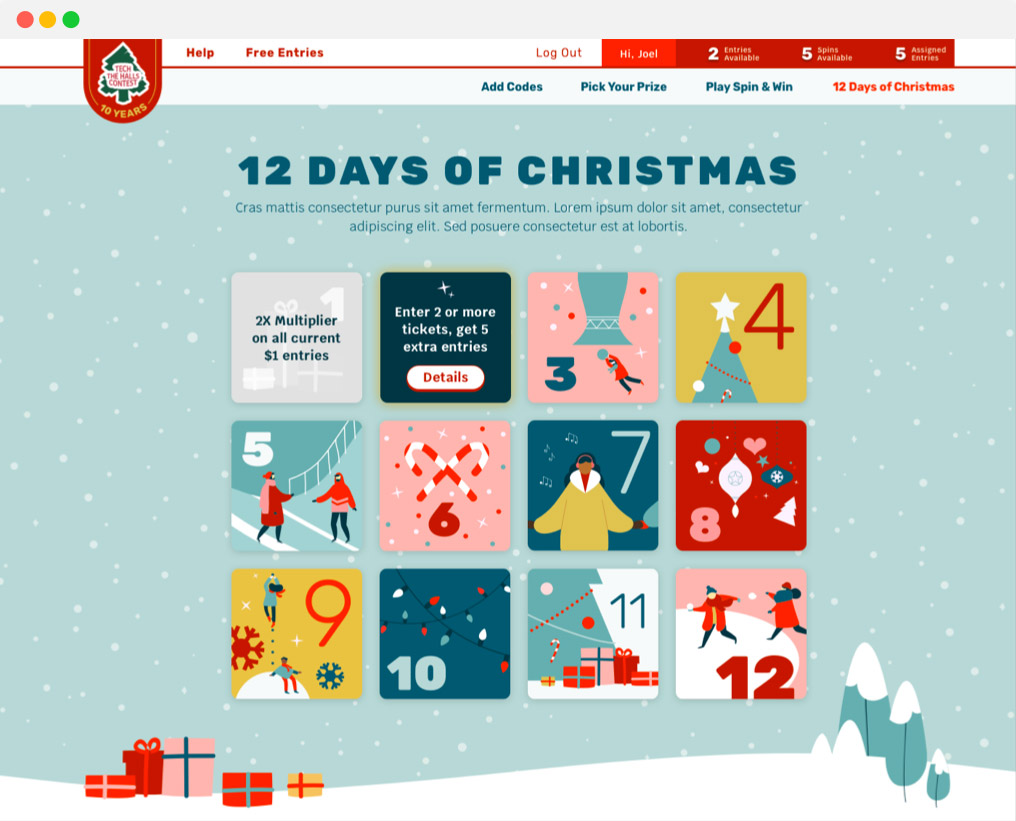 BCLC Tech the Halls: 12 Days of Christmas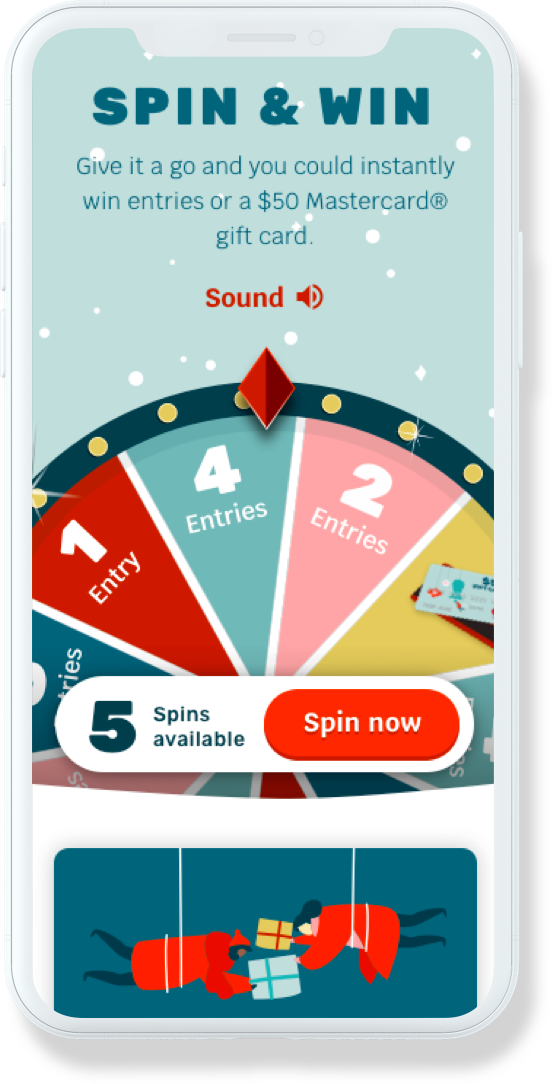 The most wonderful time of the year is perhaps also the most important time of the year for lottery corporations. Lottery tickets make great stocking and card stuffers, but so do gift cards, or even good old-fashioned money. That's why a holiday-themed online promotion and rewards program can provide lotteries with that winning edge in consumer choice. Holiday-themed tickets also have such a limited time to sell a complementary promotion can help sell through more of that inventory. However, it pays to look beyond sales considering the festive spirit a perfect opportunity to increase known play and get closer to your players.
"We have helped lottery corporations create standout holiday digital promotions for over a decade," says Patrick Watson, President & CEO of Splashdot. "Every year we come to the table with new suggestions on ways to build on their successful holiday platforms. Our nCentive platform offers so many great ways to engage players and we have the experience, technical knowhow and creative energy required to deliver effective holiday promotions that bring a little bit more joy into the lives of lottery marketers and players alike."
There is no better time to start planning your 2022 holiday-themed digital promotion than the present (pun intended) – especially if you would like to design a bespoke platform that will make a big splash next holiday season. Contact Splashdot today to get started.